Export Clearance Services
Are you looking for efficient, compliant export clearance services with a digital-first approach or support?
We guide you in T1 forms for exporting to the EU
We provide cost and time efficient customs solutions to keep you moving
We help you navigate the post-Brexit landscape with support from over 1700+ customs experts across Europe

UK Export Operations Manager
Image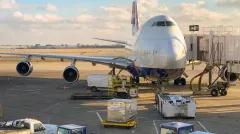 The United Kingdom left the European Union on 31st December 2020. After a turbulent transition year in which businesses had to get used to the new rules on import and export formalities, VAT & origin – we know the last thing you need is more hassle.
In 2022 we helped you prepare for the phenomenon known as the real Brexit, during which the postponed customs declaration for import flows to the United Kingdom come to an end and full customs declarations and checks were carried out.
Frequently Asked Questions in Export Clearance (FAQs)
What documents are required for export customs clearance?
Export customs clearance normally requires the following documents: 
Commercial invoice 
Packing list 
Movement certificate (EG. Bill of Lading / CMR) 
Depending on the type of commodity and the location of export as well as importing country, additional documents might be required. This can be for licensing, preference, or quota reasons. 
If you need advice on needed documents for export customs clearance, speak to a member of Customs Support today. Our declarants process commodities of all kinds across Europe and the UK, and we will be happy to assist you with your query. 
How long does an export clearance take?
Export customs clearance is processed in two stages. The first stage is the creation of the export declaration. The second stage of export clearance is when the shipment leaves the border and customs authorities process the declaration as live. This completes the export customs clearance. 
How long your export customs clearance will take depends on the complexity, but the processing takes minutes once the declaration is submitted to customs. However, this can be extended if customs have a query or would like to conduct a physical or document inspection on the goods before departure. 
If you need a fast, accurate, and compliant export customs partner, contact Customs Support today. 
How much does it cost to process an export customs clearance?
The cost of an export customs clearance varies depending on the location, the amount of equipment being processed, how often you export, and whether any licensing or inspections are required. 
Export customs clearance is generally cheaper than import clearance due to there being no taxes to pay on most goods leaving a country. However, in countries where there are less exports than imports (like the UK), skilled export agents can be less common so the price can be higher. 
Customs Support have skilled export declarants in the UK and throughout Europe, providing businesses like yours with fast, accurate, and compliant clearance every day. 
Contact us to find out more about what we can do for you today. 
Read All About Our Expertise on Export