Having an AEO status can provide several benefits for your organisation, such as gaining recognition as a secure partner in the supply chain. Our AEO experts offer:
Extensive AEO certification knowledge backed by over 20 years of practical experience
Objective and independent advice
Comprehensive analysis of your AEO certification needs, risks, and opportunities
Hello. Are you AEO ready?

Senior Customs Consultant
What Does AEO Mean?
AEO (Authorised Economic Operators) recognition has been around for more than a decade now. Over the years AEO has implemented the necessary adjustments to keep up with new legislation, technology, and industry demands. As the need for accountability in compliant and secure trade practice becomes ever more of a priority, AEO has spread, with countless companies adjusting to obtain their AEO licence.
Our consulting team helps you to meet the AEO certification requirements to ensure your business is compliant and in control.
Image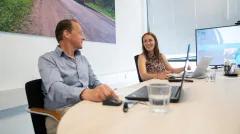 How Can We Help?
We guide you through the AEO licence process, communicate with customs authorities and answer all questions you have related to acquiring and maintaining an AEO certification. Get in touch today to begin your AEO journey.
AEO Services | Frequently Asked Questions (FAQs)
Why do I need a consultant to gain my AEO licence?
Our consultants assist you with obtaining the AEO status and in case your company is already AEO-certified, we assist in maintaining your AEO status. 
What are the AEO services provided?
Obtaining AEO: We guide your organization through the process of obtaining the status, communicate with customs authorities, and answer all questions related to acquiring the AEO licence.
Maintaining AEO: we take over all regular checks and prepare your organization for the re-audit.
Is AEO certification still useful to me when many companies have it?
Over the years there have been many companies that have obtained their AEO licence. As a result, most of the tangible benefits are less noticeable. But you still have the intangible benefits, that only you as an AEO permit holder can benefit from. These are: 
Being a reliable partner for customs and (inter) national trade companies 
Being in control of your internal customs processes 
Being a trusted player in the ever-changing supply chain world 
Why do I need a consultant to gain my AEO permit?
Simply put, an AEO licence can make life easier for companies when it comes to customs-related activities and makes it easier to be admitted to customs simplifications. Requesting an AEO permit isn't something to take lightly. Companies must want to be part of this fast-moving world and be a reliable partner in customs. The process can be rigorous. But be assured that with our support you will reap the benefits.  
Most companies are not aware that by focusing on compliance and acquiring economic licenses, your position is protected by various benefits. These benefits include but are not limited to positive brand recognition.  
Customs Support is a leading customs consultancy company when it comes to any customs permit. Let us guide you through this process, let us take over this burden and help you to obtain an AEO licence. 
Contact us today and one of our AEO consultants will be in touch.