One of the key components of our consulting portfolio is customs training. The world of customs regulations is constantly evolving as is the workforce behind it. To keep your employees up to date here's what we can offer you and your team:
Expert trainers with extensive practical experience
Specialist knowledge of a broad spectrum of customs topics
Latest insights on customs trends and regulatory developments
Contact us today and one of our customs consultants will be in touch.
Empowering Customs Knowledge

Operations Manager Consultancy
Image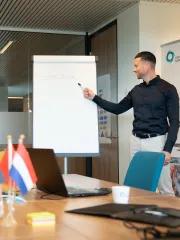 Development Opportunities with our Customs Courses
Your employees are your most important asset. They keep the organisation running and ensure an optimal logistic flow. Knowledge of customs matters is essential.
The level of customs knowledge must be kept up to date. Especially in the complex and changing world of customs, it is good to offer your employees' customs education and customs training. On the one hand, this is good for the personal development of the employee and on the other hand, it is good for the stability of your organisation.
Within our portfolio, we distinguish between standard customs training courses and tailor-made customs training addressing your specific customs challenges. The standard modules start at the basis of customs with awareness training and continue via the import and export process to the complex licensing.
Our Customs Training Structure
The following standard training topics can be provided:
Overall customs awareness and understanding of customs, trade agreements, harmonized system (HS-codes), Incoterms, import and export procedures.
Documentation, conditions, compliance, and legislation.
Legal basis and methods for determining the customs value of goods.
The overall concept and the benefits of AEO status; the requirements of customs authorities, application procedures, audit conditions, maintaining AEO within the organisation.    
E.g., Bonded Warehouse, IPR, end-use licenses.
Customs Training | Frequently Asked Questions (FAQs)
How long does customs training take?
The duration of training varies, based on the topic, the level of detail and the customs knowledge of the audience. Usually, training is divided into sessions, each about three to five hours per session. They can be offered in person or online. 
Who should take these courses?
Our customs training courses are tailored to meet the needs of customs and non-customs professionals who need to understand the basics, principles, and rules for compliant and efficient customs operations.
Can I do just one customs module, or do I have to complete the whole course?
Our customs courses can be customised based on your requirements.