Acquisition of UK Customs Solutions Strengthens Presence in the United Kingdom
Image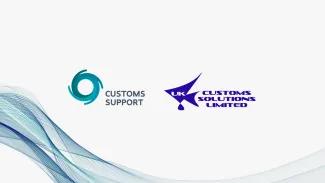 Customs Support Group, Europe's leading independent and neutral provider of customs services, is pleased to announce the acquisition of UK Customs Solutions ("UKCS") to further enhance their UK presence, capacity and capability.
Established in 2014, UKCS is an AEO authorised customs broker with approx. 150 people based out of Felixstowe, Nottingham, Glasgow and Dover. The two founders of UKCS, Bryn Ward and Ross Gosling have managed to build a leading customs broker, that serves more than 1,000 customers ranging from large international companies to small and medium sized UK companies. Like Customs Support UK, UKCS supports clients in their customs formalities and helps managing through the complexities of Brexit. Both companies strongly believe that the respective customers will benefit greatly from the merger given increased scale, more know-how and better coverage.
The combined company will not only be the leading customs broker in the United Kingdom with ~210 customs specialists at 6 strategically located offices covering the whole country, – but will offer its customers also the opportunity to profit from all of Customs Support's European operations.
"As UK's leading customs broker we are very enthusiastic to join the Customs Support Group, in becoming the EU's number one customs partner. Our high professional standards and client driven approach is fully aligned with Customs Support's approach" says Bryn Ward, UKCS Managing Director.
"We are more than happy to welcome, Bryn and Ross and their team to the Customs Support Group, as the two are very strong entrepreneurs and customs experts who have built a fantastic business. Together with Des Hiscock, the current Customs Support UK managing director, they will form a strong management team to further grow our UK operations" adds Frank Weermeijer, CEO of Customs Support Group.
Headquartered in the Netherlands, the Customs Support Group is Europe's leading independent and neutral provider of customs services employing >1.000 dedicated customs professionals serving over 10,000 customers annually. Through our extensive service offering and digital capability we consistently support our customers in maximising regulatory compliance, achieving operational efficiencies, import duty optimisation; duty planning and ongoing development for a constantly shifting customs landscape.
In addition, to traditional brokerage and digital services, the Customs Support Group offer customs consulting and gas measurement services. The company is currently active in The Netherlands, Belgium, Germany, France, United Kingdom, Poland and Italy.
In Europe, Customs Support Group serves many cross-border clients in several industries such as automotive, food and beverage and many more. Customs Support is the frontrunner in digital customs and invests substantially in the digitalisation of the customs process.
About Customs Support:
Customs Support is the neutral and dynamic partner for customs matters in Europe. A fast-growing company that stands for knowledge, speed and efficient digital customs solutions. Every day, more than 1.000 customs specialists are ready to take care of customs matters for a vast range of companies. With many offices at logistic hotspots throughout Europe, the company can offer customers a broad geographical coverage. For more information, please visit https://www.customssupport.co.uk/
About Castik Capital:
Castik Capital S.à r.l. ("Castik Capital") manages investments in private equity. Castik Capital is a European Private Equity firm, acquiring significant ownership positions in European private and public companies, where long-term value can be generated through active partnerships with management teams.
Founded in 2014, Castik Capital is based in Luxembourg and focuses on identifying and developing investment opportunities across Europe. Investments are made by the Luxembourg-based fund, EPIC II SLP. The advisor to Castik Capital S.à r.l. is Castik Capital Partners GmbH, based in Munich.
If you are the owner of a customs brokerage, gas measurement or other related services business and would like to know more about the possibilities of your business joining Customs Support, please contact Sebastian Ootjers – Director M&A and Corporate Development at sebastian.ootjers@customssupport.com.
If you have any questions, please refer to our Communication department at marketing@customssupport.com.