Artificial Intelligence: How it can Impact Customs Operations
Will AI become the future of customs?
Image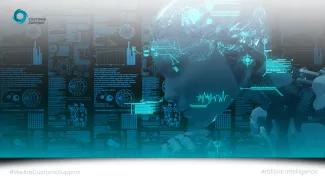 As a leading digital customs broker, we are constantly looking for new technologies and innovations and analysing potential impacts on our operations and customers. One of the developments we are closely following is artificial intelligence. 
Customs Support Joins Finland's AI Accelerator FAIA 
The AI accelerator develops the ability of SMEs to utilise AI solutions in internal organisational development and innovation, product and service development. Companies are embracing new AI solutions for selling services and their delivery to customers. Being part of the accelerator has given us many new ideas for further development and improvement of our services, aided by artificial intelligence. These AI solutions will translate into efficient collaboration with customers. 
The Positive Impact of Artificial Intelligence on Customs Processes 
In April of this year, the World Customs Organisation released a demonstration tool that can automatically classify goods based on their commercial descriptions. This is an excellent example of how Artificial Intelligence can make customs processes more efficient. 
During our AI accelerator sessions, we devised multiple processes that we could improve with the support of AI-powered tools. Below are two examples: 
Job Assignments - no two assignments are the same. Even from one customer, we can get requests of varying complexity, requiring different specific skill sets.  
We want to respond to those requests as efficiently as possible so the right expert is available for the right task. This ensures that a senior declarant is awarded complex tasks and that complex tasks are not waiting for a senior declarant to finish a job a junior declarant could have handled. 
We can use artificial intelligence to scan and analyse requests and related documents to assign them to the right expert. This increases the efficiency of our operations. 
Risk Analysis - customs processes and procedures require a lot of different documents. These documents must be in order. When the data is incorrect or incomplete, this can lead to delays, fines, or even complete refusal of shipments. 
In an ideal situation, IT systems are connected, and data is transferred seamlessly. When this is not the case, documents are shared in some digital form or even on paper. To digitise the information in those documents, OCR is used. What makes this complex is that no two documents are the same. No two invoices are the same between companies.  
We can use artificial intelligence to detect errors and analyse these errors. We can use this reactively to get correct data and proactively to improve the data we receive by sharing our findings with customers, so they can improve their data flows, and make OCR processes more efficient. Based on the analysis, it can be determined which scans should be checked and what data is suitable to process unchecked. 
Ready for the Future 
We strongly believe in the digitisation of customs processes. It increases efficiency, reduces errors, and enables all stakeholders to spend more time on value-added activities. Our current digital solutions allow us to exchange data with customs authorities and customers seamlessly. It creates transparency and visibility for our customers, giving them the information they need when they need it. Advancements in technologies like artificial intelligence will further enhance our capabilities. We are looking forward to keeping pushing forward and continue being a leading digital customs broker.