Barnier: Brexit "Unlikely" and "Possible"
Image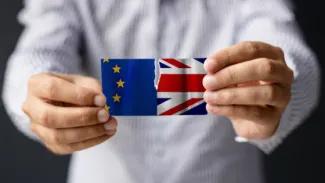 The clock is ticking and there is still no deal between the United Kingdom and the European Union. After another round of negotiations, the signals were mixed on both sides. There are still large gaps between the two parties. The biggest issues are still fishing rights and an equal playing field. Let's have a look at the current status and at who is saying what.
Barnier: "Brexit Deal Unlikely"
After another week of negotiating, Michel Barnier told reporters that a trade deal between the European Union and the United Kingdom is looking "unlikely". He cited British unwillingness to change their standpoint on the key issues as the main reason.
"By its current refusal to commit to open and fair competition and to a balanced agreement on fisheries, the UK makes a trade agreement, at this point, unlikely. Until the very last day of this negotiation and despite the current difficulties the EU will remain engaged, constructive, and respectful," he said.

…

"If we do not reach an agreement on our future partnership there will be far more friction – for instance on trading goods in addition to new customs formalities there will be tariffs and quotas," he said.
Frost didn't agree with his EU counterpart. He is more positive about the outcome of the negotiations.
"Despite all the difficulties, on the basis of the work we have done in July, my assessment is that agreement can still be reached in September and that we should continue to negotiate with this aim in mind. Accordingly, we look forward to welcoming the EU team back to London next week as planned for informal discussions and to the next negotiating Round beginning on 17 August."
On the biggest issues, fishing rights and an equal playing field, he said:
...the UK had "always been clear that our principles in these areas are not simple negotiating positions but expressions of the reality that we will be a fully independent country at the end of the transition period".

"We continue to look for a deal with, at its core, a free trade agreement similar to the one the EU already has with Canada – that is, an agreement based on existing precedents. We remain unclear why this is so difficult for the EU, but we will continue to negotiate with this in mind," he added.
And to think Boris Johnson wanted a deal signed before the end of July…
Read the full story by The Independent here.
Barnier: "Brexit Deal is Possible"
While Barnier told reporters he thought a Brexit Deal unlikely, he said something different in a closed-door meeting with member state envoys last Friday.
Reuters reports:
"I remain confident that a balanced and sustainable deal remains possible, even if less ambitious," Barnier told the gathering, according to sources present, adding that London seemed more interested in pursuing only a "low-quality, low-profile" deal.

…

Barnier's comments were echoed by Ireland and the Netherlands, according to the sources.

Envoys for the two countries, likely to take the biggest hit from any change in trade rules after Dec. 31, said they remained confident that a deal would materialise.

The Dutch envoy quipped that a deal would eventually "come swimming across (the English) Channel", according to the sources.
Read the full story here.
Others Are Less Positive
A top German industry official said the failure of talks between the European Union and the U.K. over a future relationship is "almost inevitable" and warned of "economic disaster." 

There are too many outstanding issues for them to be resolved in time and companies on both sides of the English Channel should "prepare for bilateral trade without an agreement under WTO rules," Joachim Lang, managing director of Germany's BDI industry lobby, said in a statement Friday. 

"German industry does not expect the U.K. to complete the infrastructure for cross-border trade in time," Lang added. "Companies face the threat of new tariffs, additional bureaucracy and an economic disaster."
Read more in this article on Bloomberg.
Prepare yourselves
Whatever the outcome of the negotiations will be, it is important to prepare yourself for what is coming. In our latest poll we held on LinkedIn recently we found that a little over half of the companies have prepared for Brexit.
According to a poll by the Institute of Directors, only 25% of business leaders in the U.K. say their organizations are ready for Brexit. 
Make sure you are part of the group of companies that are prepared for Brexit. How? Follow the 18 steps of our Brexit Preparations Checklist.

Contact one of our experts if you need any help on preparing for Brexit.