Corona Update: The Impact on logistics and global trade
Image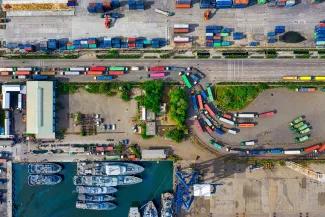 There is no doubt about it. The coronavirus outbreak has a huge impact on global trade and economies worldwide. Countries are closing borders, planes are grounded, and factories are shutting down.
The Economic Impact
The Dutch Rabobank is predicting a decline in Gross Domestic Product of 0.2% in the Netherlands, instead of the 2% growth that was predicted before the coronavirus hit our society.
Apart from being a heavy burden on healthcare, the corona crisis also leaves deep marks in the Dutch economy.

…

As a result, household spending and producer output fall sharply temporarily. This not only affects the profitability of companies but also puts pressure on employment and thus household income.
Read the full report by the Rabobank here.
Goldman Sachs is predicting much worse numbers for the United States. They are predicting the US Gross Domestic Product will shrink by 24%! Since yesterday, the United States has the most Corona cases, over 100,000.
CNN reports:
Meanwhile, financial conditions have deteriorated in recent days, making it harder for buyers and sellers to price assets as markets experience extreme volatility. That is expected to start hitting the real economy, as consumers get nervous about their hard-hit stock portfolios and it becomes more difficult for businesses to borrow money.
Read the full story here.
European Commission Urges the Member States to Ensure Cargo Flow
Countries are closing their borders to people. This is impacting trucking as well, as it gets harder to cross borders with all the checks and barriers put in place. Countries are asked to implement green freight lanes to ensure a smooth flow of supplies. 
Yesterday the European Commission issued new guidelines to member states to try and ensure European freight movements continue unimpeded, as it was "particularly crucial for essential goods such as food supplies including livestock, vital medical and protective equipment and supplies", and that "member states should designate priority lanes for freight transport (eg, via 'green lanes')".
Read the full story by The Loadstar here.
Sixfold, a provider of visibility services, has published a map where you can check the actual live waiting times at European border crossings.
A number of countries introduced mandatory border checks. With these border checks, a large number of suppliers in Europe temporarily saw significant disruptions with their deliveries due to unprecedented queues at EU-borders. As of today (March 24), the situation has improved again but should be closely monitored.
More information can be found here and the truck border crossing times can be found here. 
Challenges Remain if Factories Start Up Again
While the rest of the world faces factories closing down, China sees factories starting up again. Almost all factories are open again, except for those in the region of Wuhan.
The Loadstar reports:
...new supply chain risks were emerging, such as the unstable supply of raw materials, a lack of skilled workers, logistics issues from sub-suppliers, pressure to produce quickly and increased scrutiny from government and regulatory agencies.
Another problem is in logistics with challenges on both the warehousing and the transportation side. 
For importers hoping to source goods from China, storage and transport issues remain.. .there was increased demand for bonded storage, since space and demand were now affected overseas.

...

Many importers and retailers are prioritising the transport of medical and urgent items, so many others have been put on hold...

Airfreight capacity is still severely limited in China, with airlines still grounding up to 95% of their fleet. And, although more carriers are opting to turn passenger jets into makeshift freighters, demand is still "far outstripping" supply.
Read the full story here.
Both Air Freight and Ocean Freight Are Hit
...there are increasing warnings that the container shipping industry is set to see some of the largest declines in volumes in living memory.

According to liner analyst SeaIntelligence Consulting, the possibility of a 10% decline in global container shipments – which would equate to 17m TEU carried by the world's box shipping fleet and some 80 TEU handled in global container ports – has "unfortunately moved closer to reality".
Issues in the air freight market are caused by the lack of passenger planes flying. With almost all airports closed down for passengers, there are fewer planes in the air. As a large percentage of airfreight is carried by passenger planes, this impacts the air freight market as well.
More airlines are resorting to using passenger aircraft as makeshift freighters, as forwarders emphasise borders "remain open" for cargo.
Read how several airlines are doing this in this story by The Loadstar.
Lufthansa, Austrian Airlines and LATAM have been loading up passenger seats with cargo as they try to keep their aircraft as full as possible.

Earlier today, a Lufthansa Airbus A330 passenger aircraft loaded with around 30 tons of medical goods landed in Frankfurt today after an 11-hour flight from Shanghai in China.

In addition to the cargo compartments of the Airbus A330, the cabin – including the stowage compartments above the seats – was also loaded.
Read the full story and look at the picture of a fully-loaded passenger plane here.
The airfreight industry is asking for looser all-cargo flight rules to alleviate the stress on the current capacity as well. 
Airlines and logistics partners say regulatory flexibility is especially important because shippers are heavily relying on freighter planes in the absence of international passenger networks, which airlines have largely shut down with the plunge in travel demand. More than 185,000 passenger flights have been cancelled since the end of January, according to the International Air Transport Association (IATA). 

The airline trade group and The International Air Cargo Association, representing all parts of the air cargo supply chain, are urging governments to exempt air cargo operations from any COVID-19 travel restrictions to ensure life-saving medical products can be delivered without interruption.
Read the full story here.
We will keep you updated on how coronavirus impacts global trade. Follow our special coronavirus posts via our website.