The Effects of COVID-19 on shipping via air and ocean
Image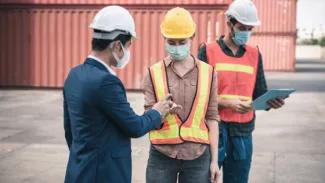 In most countries in Europe and in parts of the United States the measures that were taken to battle the spread of COVID-19 are being lifted. This means that business is getting back to (a new) normal.
It has been a tough period for many supply chains, with production facilities grinding to a halt due to lockdowns, or due to spare parts that were no longer coming in due to COVID related measures further up the supply chain. Ocean freight and air freight were disrupted too, with many blank sailings and almost no planes in the air.
Congestion at Ports
One of the problems ports in both Europe and the United States are facing is that ships that have been sailing during the COVID crisis were highly utilized. This created moments of peak activity in the ports, followed by quiet days, as many sailings were blanked.
A recently released report by the Association of Ports and Harbours had this to say about the issue:
"Major container ports in both Europe and North America report that the average moves per ultra-large container ship (ULCS) per call have significantly increased, with some hubs reaching up to 10,000 teu moves.

This is creating peaks in both ship-to-ship operations and yard activity at the terminals and is starting to impact land-side operations, especially on truck arrivals and departures. Some ports report it takes days to return to a normal situation at the yard and gates, and lost movements of cargo are on the rise.

The workforce in some ports is under increasing pressure as these peaks impact resources on some days, followed by several days off duty with no activity at all.
Read more about that here.
One type of congestion is being caused by the peaks in incoming goods, while the other type is the traffic kind. In many countries, the use of public transportation is discouraged, which means more people use their cars. This is causing congestion issues for ports located near large cities. 
Now that production facilities are getting back up to speed, and consumer demand is going up again now that more and more measures are lifted, there is an increase in demand for capacity on ships. 
Air Freight Capacity Down
The total airfreight capacity is still down, compared to the same period last year. Seabury Consulting reports:
Global air cargo capacity declined 27% last week compared to last year:

Westbound Transpacific capacity declines -1% compared to last year. Asia Pacific – Europe declines by -34%. The Transatlantic remains -50% lower than last year. North America to Latin America cargo capacity decreased by only 8%.

North America - Latin America belly decline partially compensated by freighter increase:

Belly capacity decreased by 81% compared to 2019, in line with the global average. The ~2,250 tonnes per week of additional freighter capacity compensates for 44% of the total belly loss. Brazil widebody belly capacity decreased on average 300 tonnes per day last week.

The COVID-19 outbreak has reversed the China to USA trend caused by the trade war:

Personal Protective Equipment (PPE), medical equipment and working from home articles are the main drivers of the recent increase in imports from China. it is uncertain whether these changes will remain in the longer term.
Read the full article here.
In the meantime, the Loadstar reports that air freight rates are back up to their pre-COVID levels. 
...air freight rates are almost back to pre-COVID peak levels, with China-Europe at about the same rate as it was in November, at $3.32 – although China-US, at $4.38, remains higher than peak season, but matches March prices.

Transatlantic rates remain well above last year's, however, and it is as yet unclear whether much passenger capacity will return soon, with Americans currently unable to travel to Europe, amid claims the country has not managed to control the spread of the virus.
Read the full article here.
A lot of the airfreight capacity used in the past months was for PPE equipment which was urgently needed all over the world, and for a large part produced in China. The demand for PPE equipment is slightly down, and while demand for consumer goods is slowly picking, this is not yet felt by air freight carriers. Many shippers are opting for ocean and rail to move their goods.