Freshport Rebrands to Customs Support Fresh
Image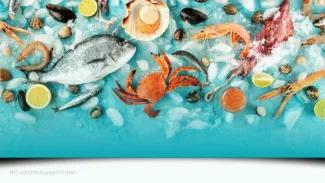 Freshport has been part of Customs Support for 5 years, starting 1 January 2021, it is now also carrying our name: Customs Support Fresh. 
Customs Support is continuously growing and adding new members to the Customs Support family. In 2020 we launched the project rebranding where all new members to the Customs Support Group started working as one single brand. 
Customs Support Fresh 
Through Customs Support Fresh we enable our customers to have their shipments of animal origin and perishables that arrive at Schiphol Airport to be inspected by the Dutch Food and Consumer Products Safety Authority (NVWA). 
The increasing regulation of European Veterinarian Authorities, require optimal standards in facilities and processes. Our state-of-the-art facility is fully compliant and located on the airside of the Airport, making it suitable as an external border inspection post. The facility is specifically designed and equipped to facilitate NVWA inspections.  
We work with forwarders that ship perishables and products of animal origin to the Netherlands on behalf of their customers. When the shipment arrives at Schiphol Airport it is brought to our facility and based on what type of goods arrive, perishables or products of animal origin, they are kept in their own stores in the warehouse with suitable conditions. There are, for instance, cold and frozen storage units with various temperature zones to store perishables. 
The four major product flows that are handled by Customs Support Fresh are: 
Perishables for human consumption, like fish or meat 

Perishables not for human consumption, like vaccines or bull semen 

Vegetables and flowers 

Live animals, mainly ornamental fish and reptiles 

How we work 
At first, customers send an application to us for an inspection at our facility. We request the handler of the shipment to deliver the shipment to our facility. In our customer's name, we request an inspection with the veterinarian authorities. We inform the customer of the date and time of inspection. If the customer's shipment passes the inspection and is customs cleared it can be picked at our facility. 
Live Animals 
Every shipment at Customs Support Fresh is handled with care, especially the shipments with live animals. We take care of the process and make sure the handling time is as short as possible. However beautiful or impressive the animals are that pass through our facility, the shorter they are with us, the better we like it. We want them to reach their final destination as fast as possible so they can swim in fresh water, or get fresh air and enough space to move. We see a lot of different animals in our Schiphol facility, from ornamental fish to hammerhead sharks, to reptiles and even sloths.  
At Your Service 
If you have any questions about airside inspections of perishables or live animals, please contact one of our highly trained and experienced experts. They are happy to help. Customs Support: Take the load off your mind.