Image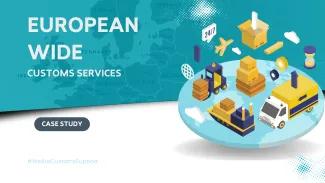 Full-Service Solutions in Global Trade
Within this client case study, we outline how Customs Support provided an existing client, with Europe-wide, end-to-end, full-service solutions to their extensive global trade operations.
Our client is an IT-based logistics provider with a European HQ in Delft (NL), a European Distribution Centre in Tilburg, and a Korean customer base in the European Electronics Sector.
So, how do we help this client meet the needs of their complex global trade?
Warehouse: we run the Bonded warehouse administration (in–outbound) on-site in Tilburg and we organise and request all licenses for the Bonded warehouse. Our specialists can help companies set up a bonded warehousing facility by assisting with the request of specific permits and setting up the administration 
Fiscal: we prepare all import documents, including Fiscal representation. Customs Support has permits to act as fiscal representatives. This way, Customs and VAT can be handled by 1 party. This is efficient and increases control and compliance. 
BTIs: we organize the classification of and requests for BTIs. A Binding Tariff Information (BTI) decision is a written tariff classification of your goods. It's not a legal requirement, but it provides assurance that your goods have the correct commodity code or Harmonized tariff code. This is important, as different classifications have different tariffs and you want to make sure you apply the correct tariff. 
AEO: we provide guidance and training around AEO requirements. AEO (Authorised Economic Operators) recognition has been around for more than a decade now. As the need for accountability in compliant and secure trade practices becomes ever more of a priority, having an AEO status can provide several benefits for your organisation, such as gaining recognition as a secure partner in the supply chain. 
Brexit Roadmap: we advised on a Brexit Roadmap. Our Brexit consultants guide companies through and beyond the complexities of Brexit. 
What does all this mean for the client?
Customs Support acts as their interim Customs Department, placing expert personnel in the company to support, train, act and advise. 
Access to specialist expertise in Customs Regulations and Bonded Warehouse administration. 
Tailored interfacing (EDI) connections to support, and protect the company for a digitalised customs future.  
AEO certified, keeping them in control of their internal customs processes and maintaining trust with their customers in an ever-changing supply chain world.  
Flexible onboarding and implementation of potential new customers  
End-to-end support from Customs Support offices situated strategically within the EU and UK.  
Through speed, compliance, quality, integrity, accountability, and a passion for digital customs: our client is able to operate across the UK and EU successfully.  This project improved harmony for the clients' global trade operations – allowing them to gain local knowledge, with global unity. Could you benefit from the support of a full-service Europe-wide digital customs broker?
Get in touch today!
Find out how we can help you today