The Impact of Freeports in the UK
Will freeports open the doors to a new digital future?
Image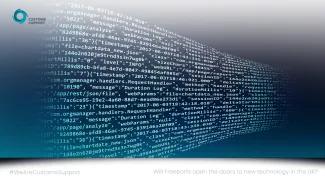 Following Brexit, the UK announced the creation of eight freeports to open trade opportunities, provide jobs, encourage innovation and boost the economy in the aftermath of COVID-19.
But what do freeports do, and how will they contribute to Britain's future? Find out in this article.
What are freeports?
A freeport is a type of Free Economic Zone (FEZ), which provides preferential trading conditions for companies that are located within them. These can be reduced import duty rates, more lenient paperwork requirements, lower employment tax, or something else which makes the process of importing and exporting easier for the local business community.
The purpose of freeports is to allow companies to import and process raw materials with less hassle and overall cost, allowing more competitive trading with the global markets and encouraging product innovation.
To get the benefits of a freeport, businesses must meet certain criteria. This ensures that they are compliant in their practices and ethical with their use of the FEZ.
In Scotland, there is a special type of freeport proposed called a Greenport. This expanded on the criteria that businesses must meet, requiring them to also meet green and employee-related targets so that the environment and people are looked after. The original Greenport model was rejected by the UK Government, and a hybrid model called the green freeport has been granted for Scotland.
Where are the freeports in the UK?
There are eight freeports in England:
East Midlands Airport
Plymouth and Southampton (Freeport Solent)
Humber
Teesside
Liverpool City
Felixstowe and Harwich (Freeport East)
Plymouth
Thames
These areas have attracted investment since obtaining freeport status, and some have targeted certain industries for specialisation:
Teesside Freeport has developed plans for a wind turbine plant in the area in partnership with GE Renewables.
Freeport East is central to the Norfolk and Suffolk Economic Strategy. The scheme looks to develop technologies around digital health, smart living, and the development of hydrogen fuels.
Freeport Solent has generated investment for a new, net-zero terminal, which expands the current capacity for cruise liners to facilitate more tourism in the UK. Additionally, the freeport is incentivising businesses to develop greener technologies in the area.
As freeports accelerate their development, more opportunities in the technology and green energy sector are expected to be utilised by companies that can benefit from the free tax zone.
Wales and Northern Ireland are expected to have one freeport each, but the sites have not yet been confirmed. Two green freeports have been agreed upon for Scotland.
How will the UK Government support growth?
The UK Government has provided grants to businesses and ports within freeport areas to begin development. There are also plans to develop the infrastructure around freeports to facilitate the demand that continued investment will bring to the areas.
With the current cost of living crisis causing inflation at a rapid rate, delays in investing by the UK Government would mean a greater price for the taxpayer. The current lead time for project approval is approximately 16 months, which means that the initial cost estimate will be significantly out-of-date by the time development begins.
This is why the secretary of state for levelling up, Gregg Clark, announced on the 30th of August that plans will now be fast-tracked to shorten deadlines and get projects approved and completed quicker.
During his announcement, Levelling Up Secretary Greg Clark said:
"Particularly in a time of high inflation, things need to be done more quickly or costs of major infrastructure projects will rise. These changes will help deliver new infrastructure more quickly, by speeding up the planning process which often moves too slowly."
What does this mean for technology development in freeports?
Greener energy and data are at the forefront of technological innovation. As the cost of fuel increases and consumers seek to reduce their bills, technology companies are trying to be that solution by developing products that can save energy and money.
With freeports allowing for lower material costs, and further support from governments on net-zero initiatives, green technology development is being highlighted as a key area for the technology and manufacturing sectors.
Additionally, data is becoming increasingly relevant for consumer goods, supply chains, and everyday interactions. Tech companies are at the front of data-system development, and the UK is creating an environment within freeports that allows them to flourish.
Customs Support are the industry leader in data and digitalisation
Across our European network, Customs Support leverages digitalisation to make our processes more efficient. By embracing data and developing our technology, we reduce the risk of error, deliver in a timely manner, and safeguard your compliance.
As well as providing a great service, our initiatives have freed up our specialists' time so that we can remain proactive in an ever-changing customs landscape. Our data technicians are already preparing to meet the UK's data-driven Single Trade Window in 2023 and remain at the forefront of digitalisation in the customs industry across the EU.
If you would like to know more about how to implement data and digitalisation in your supply chain, contact us to speak to one of our customs consultants today.