It's a Bumper Season for UK Farmers
Image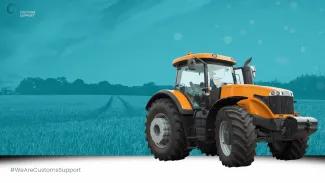 Prime Minister Rishi Sunak has outlined plans for supporting British farmers long-term, so how will the UK Government do this and what do you need to know as a farmer?
Why does the farming sector need support?
Since Brexit, farmers in the UK have faced challenges by trade deals, documentation requirements and workforce availability. 
Products of animal origin have been sold under-value to European buyers because of border delays affecting freshness, and an estimated £60 million worth of produce wasn't harvested in 2022 because there wasn't the manpower to pick the crop.
This waste is reported alongside record year-on-year food inflation in April, which was marked at 19.1% by the official consumer price inflation report.
The food inflation rate kept the total rate of inflation high for the UK, offsetting decreases in other sectors. This is why the reduction of food waste and the support of UK farmers have been highlighted as a priority by the UK Government.
Additionally, farmers of livestock have been negatively impacted by the trade deals with Australia and New Zealand. For example, farmers claim that beef from Australia will be able to compete with domestic farmers on price, yet Australia doesn't allow the import of British beef at all.
What has Rishi Sunak proposed?
To boost the sector, Rishi Sunak has outlined the following support:
Priority during new trade deals and five new agri-food and drink attaches, ensuring that export opportunities, British food quality, and animal welfare standards are at the forefront of negotiations.


 

A fund of 2 million pounds to help exporters and importers attend global trade shows.


 

An additional £2m per year dedicated to the dairy and seafood export sectors between 2025 and 2028.


 

An additional 7,000 visas for seasonal workers, up to 45,000 from 38,000 last year.


 

£30 million to be invested in precision-breeding technology.
The UK Government recently held the first Farm to Fork Summit, following appeals from the National Farmer's Union to take problems within the UK food sector more seriously.
The prime minister commented on the support package at the summit, stating:
"I will always back British farmers, and I pay tribute to their hard work and dedication all year round which keeps shelves stocked and food on our tables."
"Supporting our farmers and food producers must, and always will be, at the heart of our plans to grow the economy and build a more prosperous country."
NFU President Minette Batters responded to the support outlined at the summit, commenting:
"The announcements made today show a recognition and an understanding of the strategic importance of British food and farming to the nation. And the actions recognise the importance of coordinated action across government to support confidence, investment and growth in British food."
What can you do to prepare as a trader of agri-foods?
As new seasonal workers arrive and more of your crop is harvested for sale, you'll want to capitalise on new export opportunities. For this, you will need a customs partner that you can trust to get your goods through borders without delay.
Customs Support has more than 100 offices across the UK and EU, with over 1500 specialists providing export clearance, import clearance, and customs consultancy to businesses throughout Europe. Contact one of our experts for advice today.