Meet Our People: Customs Declarant Bauke van Eldik
Image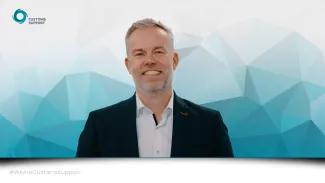 In our series #WeAreCustomsSupport, you will meet the people behind Customs Support. We value our colleagues and the work they do.
In this series, we will interview the people that are always ready to assist you and help you import or export your goods without worries. Next up in this series is Customs Support Declarant Bauke van Eldik.
Who Are You?
My name is Bauke van Eldik, I am 50 years old and I live in Venray with my wife and two children. I originally have a finance background. I worked as an advisor for a bank and a mortgage company. Three years ago I decided to follow an old passion and changed careers from finance to logistics. I looked into various positions and finally chose to become a customs declarant. In some ways a combination of my old job and my new career.
What Does a Declarant Do?
As a declarant, I am responsible for the customs clearance of our customer's goods. I facilitate the import of goods from outside of the European Union and the export of goods to countries outside of the European Union. I'm currently working a lot on imports from Turkey, Switzerland, and the United Kingdom. I make sure all the data is correct in the customs systems, I process pre-arrival notifications, but I also take care of truck drivers that arrive at our office ad hoc. My work is very diverse, from sending emails to talking face to face with the drivers transporting the goods I am declaring.
What does a typical working day look like?
Typical? I don't have many typical days, my job is very diverse. We work in shifts. A morning shift from 6:00 to 13:30 and a late shift from 13:30 to 22:00. When I start the morning shift there are always drivers already waiting to be helped. Especially on Monday and Tuesday, there can be quite a waiting line. Those mornings are extremely hectic. The evening shift takes over whatever is left from the morning shift and handles preparations for the shipments that need to be processed the next day.
What do you like most about your job? 
I already told you my job is very diverse, and that's one of the things I really like about it. Each day is different. One moment it can be quiet, and the next moment it can be extremely busy. I like the combination between preparing for shipments with customers via e-mail and the phone and the actual drivers that can suddenly appear at our office with a request for documents. I'm constantly shifting gears and looking for solutions for challenges that present themselves.
What is one of the biggest challenges? 
One of the challenges I have every day is how many different languages the drivers speak that arrive at our office. I'm quickly learning some of the basics in a lot of different languages, for example saying: please come back in 30 minutes.
We are seeing an uptake in the number of documents that are requested every day, because of Brexit. Many companies are still trying to figure out what they need to do to export to or import from the United Kingdom. I assist them with their queries and the processing of their shipments.
If I look at challenges in another way, Customs Support is a challenging company to work for in the sense that if you are looking for ways to improve and develop yourself, you can get involved in new projects. I recently became a point of contact for customers that have questions about a new Customs Support product, Customs Online. A perfect way for me to use the commercial experience I gained during my finance career and put it to good use in a new project.
And what if you are not at work? 
I like riding my racing bike. I have a group of riding buddies and we go riding on a regular basis. I also like running. You just asked me about challenges, well I like them in sports as well. My brother lives in Geneva and we are training for a 200-kilometre bike ride through the Swiss Alps. I'm doing training rides in the hills around Nijmegen now to prepare. That's about as mountainous as it gets in the Netherlands.    
Why Customs Support? 
Customs Support offers people like myself that are looking for a new challenge and opportunity to change careers. You actually learn by doing. When I was studying to become a declarant I was also working as a junior declarant. The fact that one of my closest colleagues Frank has over 35 years of experience is also a big help. I learn so much each and every day. Customs Support is growing fast and that means that there are many opportunities to learn and grow. Customs Support encourages and enables that growth.