Meet Our People: Customs Support Brexit Team Leader Miguel Navarro
Image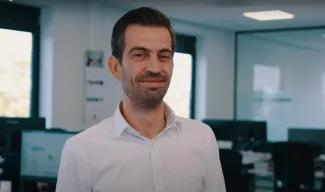 In our series #WeAreCustomsSupport, you will meet the people behind Customs Support. We value our colleagues and the work they do. In this series, we will interview the people that are always ready to assist you and help you import or export your goods without worries. Next up in this series is Customs Support Brexit Team Leader Miguel Navarro.
Who Are You?
"My name is Miguel Navarro. I'm 42 years old, I am married and have two beautiful daughters. 
I have been working in the world of customs for over 23 years. After my start as a declarant, I have been manager operations and team leader. Since this August I lead the Customs Support Brexit Team."
Customs Support Brexit Team. What do they do?
"The Brexit Team looks into the impact of Brexit on Customs Support and on its customers. A lot of companies currently don't need customs documents to ship their goods to or from the UK. That will change after Brexit. On the one hand, my team makes sure that these customers can continue doing business after the transition period ends on December 31st. As for the impact on Customs Support, we are trying to get a full overview of what customers need after January 1st in terms of support from our organization. Because currently, we don't create documents for shipments to or from the UK, we also don't have a clear picture of the volumes involved. We are working closely with our customers to find out and make sure our organization is prepared for the extra work that is coming."
What does a typical day look like for you?
"Typical? My days are very diverse, but the central theme is obviously Brexit. I have a lot of meetings and calls with colleagues, customers and government agencies here in the Netherlands and in other countries.
The challenges I deal with are big and small. They can be operational, tactical or strategical."  
What do you like best about your job?
"I just love the customs business. The diversity, it is very dynamic. I come into contact with many colleagues and customers on many different levels and together we work on solutions for their challenges. When they are happy, I am happy. And besides that, I learn new things every day." 
What is one of the biggest challenges?
"Getting everybody aligned is very challenging. Together with my team, I'm responsible for facilitating and coordinating our Brexit efforts across all branches of our organization. Another challenge is that part of what is coming is still unknown, as the European Union and the United Kingdom are still negotiating about their trade deal. On the European side, everything is clear, we already import from third countries. The question is what will happen on the UK side." 
And what if you are not at work?
"I have two beautiful daughters. One of my biggest hobbies is spending time with my family. I love taking them out to dinner and enjoy time together. We also have a dog. She likes to take long walks, like me. And you can often find me at the DIY store to get material for all sorts of projects I work on to improve our home."
Why Customs Support?
"I have opinions and am not afraid to share them, whether I'm asked or not. At Customs Support this is appreciated. Both management and colleagues listen to what you have to say. Take Brexit for example, I am now Team Lead of the Brexit Team. It is such an exciting time! I am ambitious and love to learn new things. Customs Support enables me to do that."