Meet Our People: Frits Tenge
Image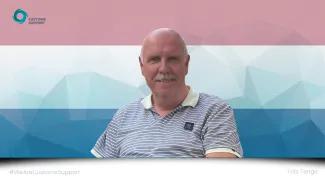 In our series #WeAreCustomsSupport, you will meet the people behind Customs Support. We value our colleagues and the work they do. In this series, we will interview the people who are always ready to assist you with importing or exporting your goods without worries. Next up in this series is Frits Tenge.
So, Frits, tell us a little about yourself!
My name is Frits Tenge, and I am 63 years old. I was born and raised in Arnhem, but for the past 42 years, I have been living in Grubbenvorst, a small town in Limburg in the South of the Netherlands. It is the centre of asparagus cultivation. I live there with my girlfriend Thea, and we have a son and a daughter, and three grandchildren! In 1979 I started working at the Dutch Customs Authority. I started as a border guard, checking passports at the border. Later, I moved on to more administrative roles doing audits of company administrations to ensure they were compliant with their customs licence. I worked for the Customs Authority for 37 years, but recently, I switched to the other side of the table, and now I am a Customs Coach at Customs Support. 
Why did you make the switch from customs authority to customs broker? 
During those 37 years, I had seen many companies up close. I've also been a teacher at the Customs Authority training centre, training new hires. I enjoyed the teaching. In 2016 I decided to switch to the other side and use my extensive experience to teach others. I joined Van Tienen (now Customs Support Safety) and later Verhoex (now also Customs Support) to set up a training centre for customs and safety matters. I was responsible for training aspiring declarants doing the standard vocational declarant training. I've set up different training programs, also for our internal organisation. 
Last December, I got a new position as a Customs Coach with my colleague Jan van der Giezen.  
What does a Customs Coach do at Customs Support? 
Jan coaches our colleagues on the practical side of the operation, and I specialise in the theoretical side of things. Customs law, rules and regulations. Customs law is subject to constant change. It's essential to keep our people up to date on the latest changes. It's needed to serve our customers in the best way possible, but it's also a requirement for AEO. And Customs Support is AER Certified. All professional qualifications have to be in order. We work every day to increase the level of knowledge in our organisation. 
What does a typical working look like? 
I arrive at the office around 8:00, and after parking my bicycle, I start my day with a cup of coffee while browsing my inbox to see if there is anything that needs my immediate attention. Around 8:30, I move to the online training room and start preparing for that day's training, which usually begins at 9:00. I would prefer doing all training in person, but that isn't practical with people in many locations. In the afternoon, I do the necessary administration, answer my emails, and work on developing new training. I also support colleagues that are in the customs declarant vocational training. 
What do you like most about your job? 
I love sharing my knowledge with the younger generations. I love inspiring them and showing them how exciting the world of customs can be. And I'm never done with learning myself. I also love to deep dive into complex customs issues and get to the bottom. I get to share my 37 years of experience through training and offering support when colleagues run into something on the job. Customs value, origin, customs laws, rules, and regulations, I have seen it all, and I know what the customs agents on the other side of the table think. Empowering my colleagues and making their job easier keeps me smiling every working day.  
What is the biggest challenge for you? 
Customs Support is a fast-growing organisation. It means a lot of onboarding and running programs to ensure everybody is up to speed and working according to Customs Support standards. We added many companies to our family, which means specialist knowledge is spread across the organisation. I make sure we can use this knowledge and spread it as well. 
 What do you do when you are not in the office? 
I'm a vintage moped nut. I love tinkering with my old 1966 Puch and my 1974 Tomos. I'm in a club, and I can't be happier than when we are out with a large group riding. I also love riding, cycling, and walking. My favourite period for walking is the rutting season. You can find me walking in the heather and laying in wait with my binoculars, trying to spot the rutting deer. I love spending time with my girlfriend, the kids, and especially the grandkids as well, of course.  
Why Customs Support? 
Customs Support is a great employer. They have a focus on the personal side of their employees as well. They are involved with their people, and if something is missing to do your job correctly, they fix it. Our management team is approachable and open. Our organisation is flat, and communication lines are short. I like that. There is so much knowledge and experience in our organisation! And I have such excellent colleagues. I will enjoy doing what I do here for years to come.