Meet Our People: Gavin Osborn
Image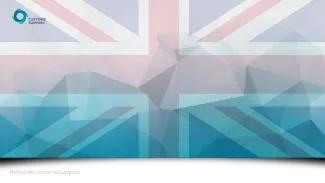 In our series #WeAreCustomsSupport, you will meet the people behind Customs Support. We value our colleagues and the work they do. In this series, we will interview the people who are always ready to assist you with importing or exporting your goods without worries. Next up in this series is Gavin Osborn, who is the managing executive at Rochester in Felixstowe.
Who are you?
I'm Gavin Osborn, and I founded Osborn Customs Services way back in 2001. We've been doing declarations for over 20 years now, starting with bonded warehousing manifests and T1 forms.
Over time, we expanded to include import and export clearances for the rest of the world, as well as adding more ports to our services. Things exploded during Brexit and we got really busy, then we joined the Customs Support network and I am now the managing executive for the Rochester office.
What does a managing executive do?
I look after the office and the staff, and I'm heavily involved in the finance and compliance side. Also, I'm doing a lot of staff training and managing the integration with Customs Support.
What does your typical working day look like?
I wear a lot of hats, here, so my working day varies depending on what's needed. I can be working with finance, doing customs declarations, or focusing on our integration with the Customs Support network. We are doing a lot of systems work here so that we can cover other offices and vice-versa, and it's important that we can all sing off the same hymn sheet.
What do you like most about your role?
It's very challenging, but everyone pulls together to get the job done. Customs is an ever-changing landscape, and a lot can be different overnight, but we can see the results of our hard work.
What's the best thing about being in Rochester?
We are very fortunate with staffing here. There is a lot of competition closer to Dover, but being here we can attract people who are slightly further afield and have a better chance of holding onto them. It's a cutthroat industry and there have been a lot of people poaching since Brexit, but we've been fortunate that we've invested in our staff and they've helped us build a good company in return.
What excites you about joining this network of customs experts?
Being able to bounce ideas around and confirm thought processes with people. When you are running the business yourself, or with a smaller team, you've not always got the support that you need when it comes to discussing ideas or checking that something is being done in the best way.
Suddenly, we have a team that's facing the same industry changes that we are and, collectively, we are developing technology, systems, and automation that are far beyond what we could have achieved as a single unit.
What is the next stage of development for Rochester?
The Customs Declaration Service is coming, so a big part of our development is training for that. We are also changing customs software, going paperless, and completing our integration with the wider Customs Support team. It's a busy period for us.
Do you think it's important to have an office in Rochester?
Not so much nowadays. The great thing about our network in the UK and Europe is that we operate as one machine. As part of our integration, we are working with the other offices to provide them with support and vice-versa. The best thing about physically having multiple offices is that we can achieve the staffing levels needed to facilitate the operation.
What do you like to do when you aren't at work and how does that affect your work skills?
I like to play 7-a-side football on a Wednesday. This is an industry where we are sat at a desk most days, so it's important to get up, exercise, and stay healthy. It's a team sport and helps me to relieve stress, so it's a good compliment to my work life.
What's the most important thing a customer should look for in a customs broker?
Compliance. It's important that traders don't get a knock on the door from HMRC with issues, so it's essential that they are able to trust the company they are working with to look after their best interests. Speed and accuracy are also key, but compliance is a priority.
You now work with a Europe-wide network of customs agents. If you could visit any city, which would it be and why?
The Netherlands is nice. They have a relaxed pace of life and are very friendly there. Italy also looks nice, so one of those two.