Meet Our People: Marco Nefs
Image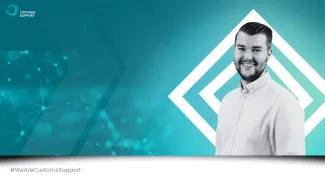 In our series #WeAreCustomsSupport, you will meet the people behind Customs Support. We value our colleagues and the work they do. In this series, we will interview the people who are always ready to assist you with importing or exporting your goods without worries. Next up in this series is Marco Nefs, who is coordinator of customs control and delivery in The Netherlands.
Who are you

?
I'm Marco Nefs, 33 years old, and have been working here for Customs Support since 2008. The first 12 years were in the operational team, working with a company that was acquired by Customs Support in 2015. In the last two years, I started the CCD (customs control and delivery) department in the Netherlands together with my colleague Miguel Navarro.
What does a coordinator for customs control and delivery do?
We act as the intermediaries between our sales and our operation teams to ensure that we can deliver on what we promise.
The reason for the department being created is that the sales people not always have worked with the custom systems operationally, and even less have worked with the different IT possibilities we know have.
When we are working on a bigger account, the CCD team can ask the right questions on behalf of the sales team so CCD can analyse the flows and give a clear picture to the client on which we can execute. It prevents us from overpromising and underdelivering.
What does your typical working day look like?
Most of the time I am busy with new clients, making sure that I understand what they require and that those needs are communicated to the relevant teams. This involves being in meetings with them at the proposal stage, and then taking ownership of the onboarding so that they know who will be responsible for their operations.
What do you like most about your role?
It's very diverse. I worked for 12 years in operations, and the work you do is mostly the same even if some things can be different. Now, I'm in contact with all kinds of people across our organisation and globally, helping my colleagues to deliver solutions.
I am also able to keep up to date with this role as I need to know the latest legislation to understand what we can and cannot do for a client.
CCD typically get involved with larger or more complex accounts. What kind of profile of client do you work with?
It varies, but there is a basic check with us to see if a prospect is moving a product that requires more knowledgeable insight to propose a solution for.
For example, a recent prospect wants to move pizzas into the EU from Turkey. I know that this could require a veterinary check at the first border point, and that we need to confirm whether this movement will go by sea or by road as the checkpoint will be different for each type. It is easy for the road check at the first EU border to be missed, and this creates a big problem later.
These types of queries are not always at the forefront of a salesperson's mind, so that check is essential for us to make sure we are asking the right questions from the start.
If we determine that more insight is needed, then we will help the sales team with orchestrating that proposal and onboarding the client so that the operation is executed smoothly
The CCD team is relatively new. What's the next stage for it?
In The Netherlands, we are very pleased with the way that this department has worked. It is always improving, and we are taking on more of a role within the marketing and sales teams to make sure that we are truly connecting what we say we can do with what we deliver.
Looking forwards, we want to bring this team to the international level, not only working with business within each country but also working with those accounts that trade across them all.
What do you outside of work and how does that affect your work skills?
I'm married with two kids, three and four years old, and have another on the way. Juggling swimming classes, days out, and other kid's things with my marriage and playing football twice a week, it takes some serious time management skills.
What is the most important thing a client should look for in a customs partner?
A broker needs to be reliable with their information. That doesn't just mean they know the answers, but also that they ask the right questions when they don't know the answer and are open and honest about their need to research a solution.
At Customs Support, we are very good on the operational side, but we have improved our understanding throughout the organisation as well. Outside of the CCD team, our IT and compliance teams are always working with our other people internally so that we can do more and deliver solutions that are good for everyone involved.
You work with a Europe-wide network. If you were to visit a country of Customs Support, where would you go first and why?
I would want to see La Spezia in Italy. When we talked before to our colleagues in Italy, they explained a completely different way of working when you compare this to The Netherlands even though we are both in the EU. It's important for us to know how things vary so that we as Customs Support can understand each other better but also inform our clients better.