Red, white, and export: why the US is an attractive market for UK food exporters
Discover what makes this trade route so appetising
Image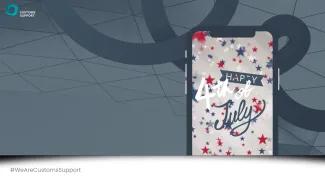 The US is the third largest export market for the UK food and drink sector, valued at £2 billion in 2021. Discover four reasons why this trade route is so appetising in this article.
1: Your food trade has potential in the US
The United States of America is an attractive market for your UK food products because of it's large, affluent, and diverse population – that mostly speaks English.
Partnered with ease of access via sea, a well-developed inland road infrastructure, and low customs regulatory barriers, you can trade with the US without too many difficulties.
2. Private-label products are growing in the US
Although you value your brand's name, companies in the US also value theirs. Fret not, as many companies are willing to buy your product so long as you put their name on the packaging.
Private label sales surged by 125% between 2016 and 2017, and only continue to grow. If you have expertise in working with private labels, you can dominate in the US market with a combination of own-brand and repackaged sales.
3. English food products are an adored novelty in the US
English sparkling wines, cheese, and gin are emerging markets in the US, as are many other UK-originating foods and drinks. The whiskey trade is also booming after the removal of tariffs last year.
As an evolving preference, these goods provide unique value amongst those who are into this trend and there is a unique opportunity to capitalise when releasing a new product into circulation.
4. It is a familiar area for customs and tax professionals
Exporting food to the USA can be a minefield, even with the relative ease of trading there. You still need to obtain export licences for some goods, understand labelling and packaging requirements, and remain compliant with the US Food and Drug Administration. Furthermore, regulations and tax considerations can change between states.
However, there are plenty of professionals in the UK who can help you with this because of the popularity of the trade route.
Customs consultants can help you ensure that your commercial documentation is in check and that your export clearance is completed correctly, and there are food specialists working with the industry to create partnerships with retailers in the USA who can help you to meet their guidelines.
Considering exporting food to the US?
Investigating and meeting standards is paramount as your product must comply with all legal requirements to be accepted into the US market. Here are some of the things you can do to get started:
Check your products with the UK's Export Control Joint Unit (ECJU) and US Customs & Border Protection's (CBP) list of prohibited and restricted items.

Find a certified tax partner in the state of interest to ensure that you know which taxes will be levied by the federal and state governments.

If you are partnering with US retailers for private-label distribution, ask them for assistance with local laws and considerations.

Partner with a customs agent who has an excellent track record for compliance, who can help you navigate the customs complexities on both sides of the pond.
Customs Support are here for you
Providing essential customs advice and services, we enable global trade for businesses just like yours throughout Europe. If you are looking to expand into the US market, contact us for more information. We'll be with you every step of the way.