Image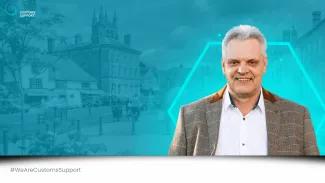 Located between the Port of Dover and Eastbourne, our Tenterden office draws on a wealth of experience from the Southeast of England. Find out more about their specialist services in this article.
Customs Support Tenterden was part of the acquisition of Duty Management Services in 2021 and is now a key location for the group in the UK. Home to one of our specialist services teams, Tenterden is leading the UK industry with its digital-first approach to customs.
Here are some of the solutions that our Tenterden team can provide for you:
Better finances with duty management
Unsurprisingly, given its previous name, Customs Support Tenterden provide duty management services for companies throughout the UK.
From help with HS classification and claiming preferential origin to leveraging Inward Processing Relief and bonded warehouses, they'll work with you to minimise your duty spend and maximise your cash flow.
Faster, accurate clearances with EDI integrations
Working directly with your supply chain and warehouse management software, the specialist services team can eliminate the costly delays surrounding duplicate information in several systems. When you move your goods, we can automatically have the declarations ready to process so that you aren't waiting on us to feed that information in manually.
Imagine a 5,000-item clearance from bond that is split between clearing to free circulation in the UK and re-export to the EU. All three clearances – free circulation, UK export and EU import end-to-end clearance – are instantly generated and ready so that the vehicle(s) can be loaded. This is only one example of how powerful our EDI connections are.
Efficiently manage Irish trade
Customs Support Tenterden is one of the only providers of digitalised solutions surrounding Northern Ireland and Onward Supply Relief (OSR), with Specialist Director Des Hiscock directly working with HMRC on the ongoing changes with the Windsor Agreement.
As the situation in Northern Ireland develops, the Tenterden office will continue to be at the forefront of simplifying this complicated trade lane.
Did you know?
Tenterden was once only two miles away from the sea (now 13), and was a limb for the Cinque Ports of Small Hythe and Rye.

The town was known for its wool in the 14th century, at a time when the wool clothing industry was one of England's wealthiest. In fact, it was because of the customs ban on exporting wool and importing woollen clothes that England's domestic clothing production grew!

William Caxton, famed for printing the first English book in 1477, was born in Tenterden.
Key location for SCDP
Our Tenterden office is one of our key locations for Simplified Customs Declaration Processes (SCDP). Did you know that we have an upcoming webinar with our experts, including Des from our Tenterden office? They will be discussing all things SCDP, so why not sign up today to ensure you don't miss out! Here are the key event details you need to know:
Thursday 17th August 2023

3pm BST

LinkedIn Event

Want to know more about how Customs Support Tenterden can assist you?