An Update on the Trade Deals Across the World
Image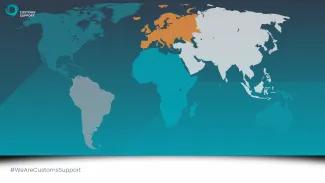 Earlier this year we already wrote on the various trade agreements that have been agreed on, or are in the works. The trade deals between the EU and Vietnam and Japan, for example. Or what about Mercosur or the ACFTA?
With Johnson now moving into Downing Street nr 10 and Trump still tweeting strong, I thought it would be good to round up the news on various Trade Deals that caught my eye in the past weeks.
On Mercosur
CNBC reports:
"Ratification in Europe is likely to be far from straightforward," analysts at research firm Teneo Intelligence said in a note earlier this month. "The risk of a failed vote would be significant," Teneo added.

…

The European Commission argues that the deal increases access for European firms that make industrial products and cars, which are currently subject to tariffs of up to 35%. The Commission also argues that European firms will be able to compete for public contracts in Mercosur countries.
Read more here.
On the Canada-EU CETA Deal
France's parliament voted to ratify a free-trade agreement between the European Union and Canada, overcoming strong opposition on fears it could hurt farmers.

The approval makes France the 14th, and largest, EU country to adopt CETA. Each EU member state must approve the agreement.

To date, the United Kingdom had been the largest EU state to adopt CETA. It did so after it voted to leave the European Union.
Read more here.
And Canadian Shipper reports:
Almost all of CETA — in excess of 90 per cent — went into force in September 2017 under what is known as provisional application, but individual ratifications by EU member countries will bring it fully into effect.

That would mean a win for the international trading order that has been under assault by U.S. President Donald Trump.
Read more here.
Trump and Trade Deals
Trump is busy making and breaking trade deals all over the world.
JAPAN:
As I shared earlier:
The United States and Japan are working on a trade deal involving agriculture and autos that could be agreed by President Donald Trump and Prime Minister Shinzo Abe when they meet in New York in September, three industry sources familiar with the discussions said.
Japan Today further reports:
Officials from Japan and the United States started a three-day meeting Wednesday in Washington to discuss a bilateral trade agreement, focusing on tariff cuts in agricultural and industrial products.
...
Based on results of working-level talks, Japanese economic revitalization minister Toshimitsu Motegi and U.S. Trade Representative Robert Lighthizer are expected to hold closing negotiations as soon as early August.
Read more here.
The UK:
After a phone call with Boris Johnson on Friday, Mr Trump said the new prime minister would be "great". He added US-UK trade had previously been "impeded" by Britain's membership of the EU.

Once the UK leaves, he said, the UK can expect to do "much more" trade with the US, he said.

Mr Johnson and Mr Trump said they would begin formal negotiations "as soon as possible" after the UK leaves the EU.
Read more here.
CHINA:
No deal yet.

The brief trade talks in Shanghai this week between top U.S. and Chinese officials were "constructive," the White House said Wednesday, adding that negotiations are expected to pick up again in Washington, D.C., in early September.
Read more here.
BRAZIL:
President Donald Trump on Tuesday said he will pursue a U.S. trade agreement with Brazil, suggesting a friendly relationship with President Jair Bolsonaro could help lower trade barriers between the two biggest economies in the Americas.
Read more here.
Largest Regional Trade Deal in Asia
Seems like everybody wants to strike the biggest trade deal, Mercosur, ACFTA, and now another biggest one in Asia.
China is pushing for a large regional trade deal with 10 Asian nations, including China, Japan, South Korea, Australia, New Zealand and India.
The South China Morning Post reports:
The Regional Comprehensive Economic Partnership (RCEP) involves the 10 Asean nations of Indonesia, Thailand, Malaysia, Singapore, Philippines, Vietnam, Myanmar, Cambodia, Brunei and Laos, as well as China, Japan, South Korea, Australia, New Zealand and India.
China is a key promoter of the partnership, which is often seen as a China-led response to the now-defunct Trans-Pacific Partnership (TPP) put forward by the US. Beijing officially insists that it is a deal led by the Association of Southeast Asian Nations (Asean) and that China is only playing a supporting role in the plan which mainly focuses on cutting tariffs and improving market access for services and investment across the region.
Read more here.
Other Trade Deals
Turkey eyes to sign a free trade agreement with Thailand
Follow our LinkedIn Page to keep up to date on the latest news on Customs, Import, Export, and Global Trade