Welcome to Customs Support Paisley (Glasgow)
Image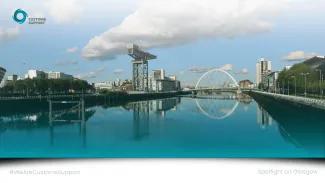 Customs Support Paisley is our local office for Glasgow, Greenock and other Scottish ports. Supported by over 1500+ declarants across Europe, we provide import and export customs services for all major air and seaports in the UK.
Our Paisley (Glasgow) Office:
Customs Support Paisley is our most northern office in the UK and manages import, export and simplified customs declaration procedure (SCDP, previously called CFSP: customs freight simplified procedure) clearances.
One of the main imports they manage is wooden barrels for whisky, which are brought in from Spain. This trade is expected to grow with the whisky export market, following the drop in tariffs in the US and the new liner schedule between Scotland and China.
With links to Glasgow Airport, our office is strategically placed. Scotland's principal long-haul airport and part of the Clyde Green Freeport bid, processing over 13,000 tonnes of air cargo per annum. Situated three miles away is Customs Support Paisley, our most northern office in the UK. So, how does Glasgow Airport contribute to Scotland's trade, and what can we tell you about Paisley? Find out in this article.
Glasgow Airport
The modern Glasgow Airport opened in 1966 but originated in 1932 as Abbotsinch, an overspill for the Royal Air Force (RAF) base at Renfrew, which is a town between the current site and Glasgow. It later became HMS Sanderling in 1943, after the Royal Navy took over the site.
Today, Glasgow Airport is Scotland's principal airport, but it is not the most active. Edinburgh Airport, which only has one terminal compared to Glasgow's two, is the busiest. However, Glasgow is recognised as serving more Scottish destinations than any other airport.
If the Clyde Green Freeport bid is successful, Glasgow Airport will become one of two free economic zones in Scotland. As sites of technological development, freeports encourage development, so it is expected that investment in Glasgow Airport will increase if they are successful.
Did you know?
Approximately 30% of the world's Scotch is bottled in Renfrewshire, the county next to Glasgow Airport.
 
James Goodfellow, OBE, the man who invented chip and pin technology, was born in Paisley.
 
J&P Coats is used to manufacture approximately 90% of the world's sewing thread in Paisley. The Customs Support office is inside the building that used to be J&P's shawl-making factory.
 
Glasgow's Gaelic name is "Glaschu", meaning "green space". A fitting name for a potential green freeport.
 
The ultrasound machine was first developed and used in Glasgow in the 1950s.
 
Glasgow's underground railway system, which opened in 1896, is the third oldest in the world. It is known as "The Clockwork Orange" because of the bright orange carriages.
Do you need customs clearance in Glasgow?
If you could benefit from a customs partner that can cover each stage of your freight across the UK and Europe, contact us for more information.
Related Experts +
Image

Latest from James Simpson
Image