World Port Days | Rotterdam, the Most Beautiful Port in the World
Image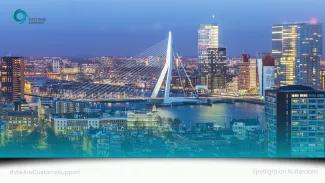 We love the Port of Rotterdam. As customs agents, we love all ports, whether seaports or airports, because they are the gateways through which global trade flows. But the port of Rotterdam has a special place in our hearts. It is the home of our head office.
Top 10 Port
It is the number 10 busiest container port in the world and the biggest port in Europe. It is also one of the most innovative ports in the world. The port recently installed the first 3D printed bollards. It enables startups and scaleups to innovate and improve what happens at the port and beyond, whether circular or other sustainable initiatives or digital innovations like Navigate or PortXchange.
Through PortXL, the port supports continuous improvement and innovation in the port area:
The MATCH innovation project is an initiative of PortXL. This accelerator programme has been working since 2015 to help entrepreneurs in the port area bring new innovations to market. Having already built up a worldwide network of over 4,000 innovative entrepreneurs, PortXL can find a solution to virtually every problem. PortXL helps innovative entrepreneurs and start-ups 'get on the radar' of companies that want to improve their processes. For start-ups, finding the right opening at a potential client and starting up novel projects can be a time-consuming and often expensive undertaking. And established firms in turn can benefit from the swift inception of innovative projects, since this allows them to increase the efficiency of their operations and save costs.
Innovation and Digitisation
The mission of PortXL is to accelerate innovative technologies for the green energy, maritime, logistics and process industry in port regions across the world. Each year they support a group of companies from around the globe that work on innovative technologies. This can be floating solar plants, autonomous drone operations with proprietary docking stations, or improving human-machine interaction through AR.
We follow these innovations closely, as we keep innovating and digitising our processes as well.
The World Port Days
This weekend, September 3, 4, and 5, the Port of Rotterdam will hold its yearly World Port Days. They enable the general public to see and experience what happens at the Port of Rotterdam during those days. You can board and tour different vessels, and demonstrations vary from tugging to rescue operations with helicopters.
For more information, you can visit the World Port Days website.