Meet Our People: Dan Culverhouse
Managing Director, UK & IE
Image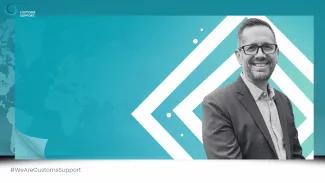 Welcome to our exclusive "Meet the People" series, where we take you behind the scenes to meet the dedicated individuals powering Customs Support. These passionate professionals play a pivotal role in ensuring the success of our mission: empowering your global trade.
In this edition, we are excited to present Dan Culverhouse, who joins Customs Support today as the managing director for the UK & Ireland. Dan has worked across Europe and Asia in supply chains, optimising processes and systems to enable growth. Join us as he shares his insights and plans for the future.
Tell us a bit about you and your career
I'm Dan Culverhouse, British, born and raised in Wiltshire. I left school at 16, beginning a business apprenticeship at the suggestion of my parents. I learned a lot but felt it was too much at that age, so I walked away after a couple of years and worked in engineering for a while.
I found myself out of work at one point, which is when I first took a job in logistics. It was in a warehouse, applying Spanish labels to M&S toiletries. I learned how to drive a forklift and then became a supervisor, but I had a burning desire to travel and quit for nine months so that I could explore the world.
That spell I spent travelling really changed my life. I had such a good time and felt it was surprisingly easy, so I just didn't want to live in the little town I'd grew up in anymore after I'd come home to the UK.
I started applying for jobs throughout the UK so that I could see what was out there and ended up working for Tesco for about 15 years. I went from warehouse supervisor to ops management and then into project management – building automated DCs (distribution centres).
Was it with Tesco you started working abroad?
Yes; they asked me to set up an automated distribution centre in South Korea. I initially said no, as the timing wasn't great, but I was the only person in the company who had set them up at the time – so I agreed to do a couple of weeks to get the team started.
Within 48 hours of being in South Korea, I called my fiancée (now wife) and said we had to move out there. The place was incredible, and we moved there shortly after our wedding.
We were there for a couple of years, and then moved to Czech Republic, again with Tesco, to repeat the process there. I was the distribution director for a retail acquisition there, building more distribution centres and centralising the supply for the Czech and Slovakian business.
My wife and I had two children whilst we were in Czech Republic, our daughter India and our eldest son Kai. My youngest son Logan was born in the UK in 2012.
After three years, we moved to Turkey with Tesco to create more DCs there. Two years later, they wanted me to move back to the UK. I asked for a job outside of the UK, but this was in 2008 as the financial crisis was in full swing and it was the UK or nothing.
My family wasn't ready to return to the UK, so I left Tesco.
Where did you go from there?
I joined a business in Ukraine but, unfortunately, the timing for their operation was wrong with the global financial problem and we agreed after a couple of months to call it quits.
I then went to Kuwait in the Middle East, joining with a company called Alshaya, who franchise British and American brands. They are a big company that had grown very quickly and needed help with their logistics as they were having issues. It was really blocking their growth.
Over the next couple of years, we delivered a plan to optimise their supply chain, putting in controls and making their processes more efficient. Logistics became a growth enabler instead of a hinderance, and they made a lot of sales on the back of being able to keep up with the demand again.
My family had been out of the UK for 10 years and both of my children had never lived in the UK. We felt that it was important that they learnt a little about 'real life' outside the bubble of expat life so we made the decision to return to the UK.
What did you do on returning to the UK?
I went to work as the global logistics director for a marketing company in 2011. They were heavily involved in branded materials and moved freight from Asia across the world.
This was the first time that I really started paying attention to customs clearance. We were shipping globally, and I got to understand the frustrations and complications around it.
They also had about 20 warehouses throughout Europe, yet they were only around a 500m Euro business. Similar to Alshaya, they'd grown too quickly and their supply chain was a bit sporadic and out of control. Over the next couple of years, I got it down to two warehouses and put a lot of controls in to make the stock flow instead of hoarding it unnecessarily.
We had a deal that I would move to Asia once the European supply chain had been stabilised, but their Asian business didn't grow as they had expected whilst we were working on Europe. The majority of the business continued to be  European, so I couldn't effectively be located in Asia as their global logistics director.
Did you decide to stay in the UK because of that change?
My family wasn't ready to be back to the UK permanently at that point, and we decided to move again. I actually went back to Alshaya in the Middle East, this time as their logistics operations director. With a target to succeed the current VP.
However,  whilst I was enjoying my time back in the Middle East a fantastic opportunity came my way in Asia. So, I joined DKSH, a Swiss distribution company based in Thailand as the VP of strategy and development.
The company had been around for more than 150 years, and was undergoing a huge modernisation program as it was still very low tech – everything was still running on paper.
Three months after I joined, the global head of the supply chain resigned, and I was asked to fill the role. I sat on the executive committee for about four and a half years, overseeing this modernisation project. We made the distribution centres paperless, brought in automation and robotics, and really made the whole operation a growth enabler for the business.
It was this point when Covid hit, and I went from travelling around Asia every week to managing 140 distribution centres and over 6,000 people entirely remotely. It was a first, and I still can't believe what we achieved during the pandemic.
We'd been in Thailand for nearly five years once the lockdowns had ended, my daughter was heading to university, and my son was about to do his A-levels. Covid was still hanging on as a global problem, and we weren't convinced of sending our children across the world to university when we may be separated from them by another wave, so we decided to come back to the UK in September of 2022 so that we could put their education first.
What have you been doing after returning to the UK again?
I've been working as a freelance consultant for the last 12 months, and connected with Customs Support in this time.
They offered me the opportunity to bring my experience in leading diverse teams, projects, and supply chain optimisation to the UK team as the managing director, and I am excited to have accepted the challenge.
What will you do as managing director?
The key to my role is creating a culture within the company that allows us to progress and grow.
Customs Support has a fantastic team of technical and customs experts; they don't need me to dictate to them how to do what they do. They need me to provide an environment that brings out the best in teams and individuals, where they can flourish.
What that means is that we need to continue to encourage innovation. Yes, compliance is key and we are safeguarding our clients' businesses, but that doesn't mean we can't take things further. Customs Support is already disrupting the industry with our systems, EDI integrations, and value-added services, and I want  us to focus on being invaluable to our customers.
To make progress, our people need to get things wrong sometimes. That's ok, and I understand that risks will be taken and at times we will fail. What's important is that we feel comfortable in doing that, learn from the things that do go wrong, and then go on to succeed. I want that environment where my team are not afraid of voicing and testing ideas, and don't have that fear of failure.
That isn't to say that things will be sporadic and chaotic; I am a very structured person. But I will work on giving our people a framework to operate within that both gives them autonomy and makes them feel like they can push the boundaries of what we do.
What's the next step for Customs Support UK?
Integration of all the acquisitions is the key to moving forward as Customs Support UK. We acquired a few strong independent companies and it's only natural that they still hold on to some of their processes and intraoffice team spirit.
Interoffice relationships have progressed, systems are mostly unified, and there is a strong brand ethic amongst the Customs Support UK offices, but getting them truly united is the goal.
Once we achieve this, we can really pull on each other's strengths within the entire team.
Where do you see your extraordinary experience with supply chains having the most benefit?
Although automating a physical process like warehousing is different to the customs setup, the principles are pretty similar. If we can automate more, then we can do more with the people that we have and provide better value to our customers.
Customs is a complex subject, and it can be hard to find the expertise to do it well. Customs Support has already recognised that manual entry is time consuming, full of risk, and a waste of their people's skillsets. The way we've disrupted the norm by automating processes and become more system-driven has already created value for clients within this industry niche.
What we see at Customs Support is that we can be more than just a standard broker for businesses. Brokerage is a strong engine for the business, but leveraging our team of experts can create the value and efficiency within our customers' businesses that will make us stand out and be seen as a true partner to their success.
If we can help you automate processes or leverage a customs function financially, we will make that suggestion. If you can pivot to buy or sell in a different country when a trade agreement changes, then we will help you investigate it properly and make that switch.
Where my skills come in here is that we need those internal controls that empower our people to create those solutions for our customers. I've worked on supply chain systems throughout Europe and Asia, and I'm here to help bring out the best in our people using tried and tested mechanisms.
What do you like to do when you're not at work, and how do you feel that influences your work skills?
I am a great lover of music. It's always been a big part of my life, although I mostly just listen these days. I was in a band when I was younger and finally set some time aside to learn to play the guitar during Covid.
Other than that, I am very much into my health and fitness. I've run a marathon and completed a triathlon, but I tend to cycle most of the time now as it's easier on the knees. The fresh air in Britain is also nice for cycling compared to some of the places I have lived.
I find it's important to have that balance of body and soul with the things you do outside of work, and it's a variety of activities that create that balance. Sometimes playing the guitar is like meditation and very enjoyable; sometimes it's frustrating when you can't get it to work. But with practice you learn the song and it gets better. Same with fitness. It won't always be good, but it will be better in the end.
I've got three kids and with my  wife Lyra, we are a tight knit family from travelling around the world together. Being with them has really helped me to work on being balanced in my mind, body, and soul.
I'm 55, and that's just a number, because of my family I've become more aware of what I eat, how I look after myself, and what impact that has on my life. I like to feel strong and alive, and – although I cannot always beat them anymore – it's important to me to still be able to have a kickabout with my sons.
Being strong, healthy, and relaxed helps me bring the best version of myself into my work.
What is the most important quality in a customs broker?
Diligence. Accuracy is everything in this business and we need to get it right from a compliance point of view.
You now work with a Europe-wide network. If you were to visit an office location of customs support, which country would you want to go to first and why?
I would like to go to Finland or Sweden. Scandinavia fascinates me, and I've been to Denmark already. Their way of life is very interesting, especially as you get further North, and I'd like to go and investigate.