A Year As Customs Support UK & IE
Here's a recap of our year as Customs Support UK & IE
Image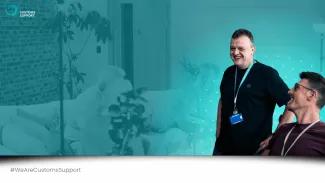 It's been a year since we rebranded our UK and Irish entities, bidding farewell to familiar and trusted brands so that we could move forwards as a united Customs Support. We look back in this article.
Customs experts join forces
Customs Support UK and Ireland were created from the unity of several well-known and industry-leading brands, with even more joining throughout the rebranding process.
Since being acquired, industry powerhouses Ashford Applications, Bell Transport, Clearing Customs UK, DMS, KSI, Logistics and Customs Clearance UK, Osborn Customs Services, and UK Customs Solutions have undergone a significant transformation – combining resource and expertise to evolve into a single entity: Customs Support UK & Ireland.
Moreover, the post-Brexit landscape has meant that the UK and Ireland teams have had more exposure to our European branches than typical acquisitions in the European Union.
Throughout the process, our people have come to value and trust each other's expertise, celebrating every milestone as we've made strides towards our goal of a single UK and Irish brand.
An all-round win
As two of the spearheads for the rebrand and restructure for Customs Support UK & Ireland, Gary Harrold and Bee Newboult gave their comments on the success of the last year.
UK & Ireland Operations Director Gary Harrold
"On our anniversary, we proudly celebrate joining the EU-wide Customs Support Group and the remarkable people that have made it what it is today. As part of the UK & IE team we have made massive progress with automation which of course enhances our partner's transit times and accuracy/ compliance, reflecting our commitment to making customs easy for global trade."
Group Brand Manager Bee Newboult
"Throughout this journey, we have witnessed the tremendous value of uniting various entities under one brand. By leveraging each other's knowledge, sharing expertise, and enhancing our digital capabilities, we have made significant strides in serving our clients better.
The final step in this transformative process was the rebrand, which we commemorate our one-year anniversary of today.
This process has highlighted that it isn't just our leading digital solutions and country-wide service that makes Customs Support UK & Ireland the customs partner of choice; it's our people. Their spirit of camaraderie, the way they seek to challenge the norm, and their individual strengths as champions of the customs industry.
Over the past year, we have organised filming sessions, webinars, and other content to showcase the talented individuals who make up our organisation.
Our champions have played a vital role in fostering unity and fun across all our locations, introducing initiatives such as football competitions and personalised goodies. We've also celebrated our achievements together with delightful ice cream trucks, cakes, doughnuts, and even digital bingo.
Personally, I am immensely proud to walk into our offices and witness the unified Customs Support team, sipping coffee from the same mugs and proudly displaying their branded lanyards. This powerhouse of a company has boundless potential, and it has been an absolute delight to be a part of this new journey alongside our incredible teams.
As we continue to unveil the power of Customs Support in the UK, we are only scratching the surface of what this company can offer. With more exciting rewards on their way soon for our UK/IE teams, there is no better time to be part of this company.
The future is bright, and I am excited about the incredible contributions we will make together under the banner of Customs Support."
What the future looks like for Customs Support UK & Ireland
Continuing our focus on people, education, and advancing digital solutions, we have some exciting things coming up at Customs Support:
Improved employee portal
Coming soon is a new internal system that will allow our people to work more closely together and improve efficiency across our offices and teams.
(If you are looking for a new challenge in the customs industry, check out our careers page here)
Britannia Bureau Limited Rebrand
Britannia Bureau Limited was acquired in 2022 and will complete their rebrand in the near future. Focused on value-added customs functions, Britannia provides expertise in digital customs, SCDP, and duty management services such as bonded warehousing or inward processing relief.
Simplified Customs Declaration Processes (SCDP) webinar
Our Specialist Services team have hosted a webinar on Monday 24th July 2023 about the benefits of SCDP. Did you miss this opportunity? Get in touch with one of our experts to discuss the SCDP possibilities for your enterprise. 
We will be attending more industry shows
After our success at various trade shows across the EU and the UK, we will be attending more of these in the coming year – including Multimodal 2024.
Dan Culverhouse will join Customs Support UK & Ireland as managing director.
Building on a 30-year career in corporate supply chains across the UK, Europe, Turkey, the Middle East, and Asia-Pacific, Dan Culverhouse will be joining Customs Support UK & Ireland as our new managing director.
Commenting on his appointment and the one-year anniversary, Dan said:
"I was attracted to Customs Support as I saw a business that is disrupting the industry by bringing transparency to a key, yet often overlooked, part of international supply chains. Their Europe-wide expertise and digital-first approach enhance their customer centricity and add significant value, which sets them apart from the overall customs industry.
Looking forward, I am excited by the opportunity to lead such a driven team and join them on their journey of integrating these great businesses that have been acquired over the last two years. Building a unified Customs Support UK & Ireland is a challenge I will enjoy working on with them."
Want to stay up to date with Customs Support UK & Ireland?
Subscribe to our newsletter below.